Bea Alexander and her team of experienced Pilates teachers offer both Pilates matclasses and Studio Pilates with Joe Pilates apparatus. We are a personal, highly skilled Pilates organisation in Edinburgh, Scotland. Our focus is on the quality of our teaching, supporting you to gain and keep good health.
We teach Pilates matclasses at our matclass home, Central Studio EH1, our sister studio Gathering Essence,  and The Eric Liddell Centre EH10.
At our equipment home, The
Grange Studio EH9
we teach:
Individual, Private Pilates Studio Sessions
1-to-3 Pilates Studio Sessions
Small Group Matwork Pilates Classes
Small Group Pregnancy and Post Natal Classes
Rehabilitation Pilates
Pilates for Older People
Postural Assessments
Personal Home Pilates Programmes
PILATES MATCLASSES > GRANGE STUDIO CLASSES >
What are 'Pilates Matclasses' and 'Studio Pilates' ?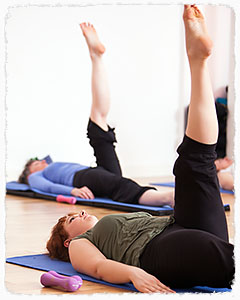 Pilates matclasses are Pilates exercises done using either just your own body, or small pieces of Pilates equipment such as resistive bands, little 'ova' balls, the magic circle, and the foam roller. Classes are done on mats, like Yoga.
We offer small group classes of a maximum of six people in each class in The Grange studio, or classes of a maximum of 12 at Central Studio; the other venues have a maximum of 15 in each class. Matclasses are booked in terms.
READ MORE >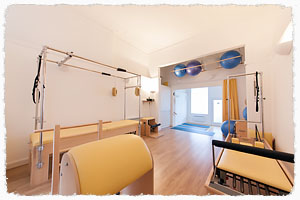 Studio Pilates is the original way to do Pilates using the innovative Apparatus Joe Pilates invented. Hundreds of exercises are possible on each machine.  A class is designed around your individual requirements. We can teach people of all ages and levels of fitness, from people with chronic conditions such as MS, osteoarthritis, strokes, to super-fit athletes.
Studio sessions are bought as one-offs or in blocks. You can arrange your studio sessions when you want, and you can cancel them as long as you give us more than 24 hours notice by email or phone.
READ MORE >