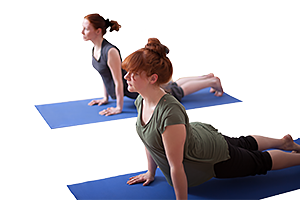 Each term at Bea Alexander Pilates, we run over thirty matclasses from complete beginners classes, through five levels of experience and difficulty, to our advanced level 4.
We also offer 'specialist' classes: Pilates for Cyclists', Pilates and Yoga Fusion, a Small Group general class (maximum 8 people). A Small Group Seated & Standing class for those with restricted mobility, Small Group Classes for Pregnant and Post-Natal Women.
Our Classes are Held at Three Venues:
Central Studio, our home studio, 14a Broughton Street Lane, EH1 3LY
Gathering Essence, our sister studio, 10a Broughton Street Lane, EH1 3LY
Eric Liddell Centre, 15 Morningside Road, EH10 4DP
Our Classes Bring You:
Experienced, well-qualified and full-time Pilates teachers who care about you.
Teachers who know how to adapt exercises for people with injuries and conditions. We teach the person, not the exercise.
The opportunity to progress at the right pace for you, with our classes set at five levels of difficulty and experience. People can stay at the level best for them.
The benefit of our courtesy 'making-up-class' policy.
All equipment provided free of charge at Central Studio and Gathering Essence. (Eric Liddell, you need to bring your own mat as there is no storage.)
Good-sized classes of a maximum of 12 at Central Studio and South Wing at Eric Liddell, and 15 at Gathering Essence and Eric Liddell Robertson Suite. (This is unlike classes at gyms and other big studios where they back people in with only a hands-breadth between mats!)
Our passion for Pilates and the life-changing benefits.
A teacher-led, personal organisation run by people passionate about Pilates, with ethical teacher's pay.
How Our Classes Work:
We divide our classes into this many levels of experience so we can teach people to exactly the best of their ability. Our main focus is on the quality of our teaching for you to gain the maximum benefit from Pilates.
Most matclasses run in terms, similar to the Edinburgh school terms.
We have longer Spring, Autumn and Winter terms of 12 to 14 weeks and a shorter Summer term.
We run some shorter six or seven-week blocks of classes to give people a chance to try out Pilates and for 'Special Populations', such as Pregnant and Post-Natal women or people who do seated Pilates (not lying on the floor)
Matclasses for a maximum of 12 to 15 people, depending on the venue.
Small-Group Matclasses for a maximum of eight people per class, for more individual attention.
Pregnancy and Post-Natal Small Group Classes for a maximum of eight women per class, in shorter, six to seven week blocks.
You can see the timetable for each class-type on its own page. By following the link to our online booking system, 'MindBody' you will find full descriptions of each class, explaining the levels, and can make bookings.
Enjoy Your Pilates
Save
Save