Our Pilates Matclass Levels Explained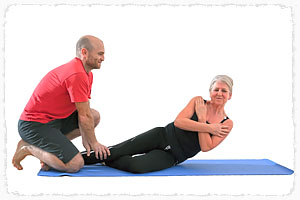 Our Pilates matclasses are divided into five levels of experience and ability. This is so you learn the technique really well and can work at exactly the right level for you. We do also run some 'general' classes.
Pilates Beginners:
The beginners classes are designed for those who are absolute beginners to Pilates or have a little experience. It is also suitable for those who have done a term or two of beginners who want to do more work on the core principles of Pilates and for those with injuries. Please discuss injuries with us before booking.
Pilates Level 1:
This is for people who have done at least one term of Beginners Pilates and for those who want to continue to work at a moderate pace. We introduce a wider range of exercises than Beginners and explore in more detail how to breathe, stabilise and mobilise the body, gaining much greater control and power.
Pilates General (Not for Total Beginners):
The General lunch time class  and the 4.15pm Monday class are for people who have at least a beginners term of Pilates experience and perhaps a lot more. The exercises are usually pitched at the 1 to 2 level but we make things harder for those of you who are stronger. They are great all round classes, and we can work in quite a lot of depth with the body.
Pilates Level 2:
For those of you who have done at least one or more terms of Level 1. The exercises start to get harder and the pace is a little faster than level 1. We expect you to understand the fundamentals of Pilates and to keep building on these.
Pilates Level 3:
Level 3 starts to challenge your muscles and brain far more and we introduce you to more of the 'classical Pilates' repertoire of exercises. We would recommend you have done at least a year of consistent Pilates before joining Level 3.
Pilates Level 4:
This class is aimed at those of you who have done at least one term of Level 3 and over a year of Pilates, at least. Please realise many people in this class have been doing Pilates for ten or more years. It asks for accuracy & thoughtfulness as much as fitness. We use a lot of classical Pilates and investigate the strength and mobility of every part of your body!
Pilates Level 4 Advanced:
This Level 4 class is similar to the earlier Level 4 class, but we have increased its length to and hour and a quarter so we can spend more time doing a good warm up and stretchy cool down and still have an hour of hard core Pilates.
Pilates Split Levels:
Classes that say 1 to 2 or 2 to 3 are transition classes that can accommodate people coming from both levels. They are a good way of transitioning from one level to the next.